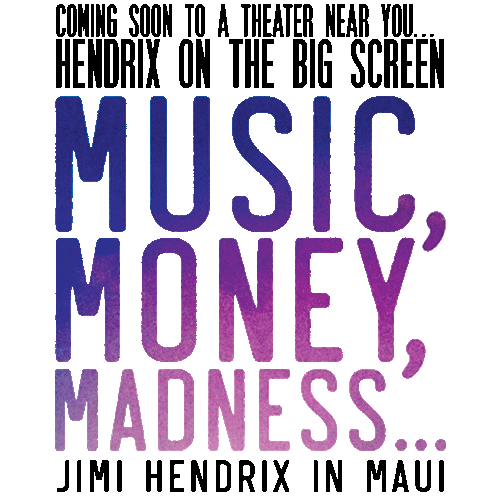 5.1 SURROUND SOUND MIXING
PERFORMANCE FOOTAGE EDITOR
THE JIMI HENDRIX EXPERIENCE

Experience Hendrix, L.L.C.
Janie Hendrix
John McDermott
George Scott
Eddie Kramer
Chandler Harrod
Spencer Guerra
Chandler Harrod
Jimi Hendrix
Mitch Mitchell
Billy Cox
Lou Adler
David Berson
Victor Bockris
Brian Byrnes
Billy Cox
Pamela Des Barres
Andy Edlen
Jeff Gold
Alfred Goolsbee
Colette Harron
Michael Hynson
Eddie Kramer
John Jansen
Linda Lindsay
Trixie Linick
Robert Margouleff
Ken Melrose
Bob Merlis
Bambi Merryweather
Melinda Merryweather
Mitch Mitchell
Mike Neal
Les Potts
Alan Shubin
Gerry Stickells
Steve Sutherland
Chuck Wein
Music, Money, Madness… Jimi Hendrix Live In Maui chronicles The Jimi Hendrix Experience's storied July 1970 visit to Maui and how they became ensnared with the ill-fated Rainbow Bridge movie produced by their controversial manager Michael Jeffery.
By the middle of 1970, Jimi Hendrix was working on a follow up album to Electric Ladyland with his bandmates Mitch Mitchell (drums) and Billy Cox (bass), headlining festivals and arenas across the U.S. and building Electric Lady Studios in Manhattan's Greenwich Village. Completing this state-of-the-art recording facility was proving to be a costly endeavor, so his manager Michael Jeffery procured a $500,000 advance from Warner Bros. to fund the remaining construction required to complete the studio. At those same meetings, Jeffery convinced Warner Bros. executives to finance a film called Rainbow Bridge that was to be shot in Maui, in exchange for rights to its soundtrack album consisting of new Jimi Hendrix studio recordings.
Inspired by Easy Rider and directed by Warhol acolyte Chuck Wein, Jeffery's film centered around the idea of a "rainbow bridge" between the unenlightened and enlightened worlds. It was envisioned to feature everything from surfing and yoga to meditation and Tai-Chi and filmed without the aid of a script or professional actors. It proved to be a rambling assemblage of hippie excess and Jeffery grew concerned that his investment was being squandered.
The Experience were already booked to perform a concert in Honolulu at the H.I.C. Arena on August 1, 1970. Chuck Wein, desperate to feature Hendrix in some capacity within the film, devised a plan to film a free 'color/sound vibratory experiment' on the lower slope of the dormant Haleakala volcano. Word of mouth about a free Jimi Hendrix concert led a few hundred curious Maui locals to the Baldwin cattle ranch in Olinda where a makeshift stage was constructed and the audience was arranged by their astrological signs. The performance was a success – the trio was at the height of its powers and played two sets flawlessly against a stunning natural backdrop.
In the aftermath of his performance on Maui, Hendrix would return to New York and his work at Electric Lady Studios. He had no further involvement in Rainbow Bridge. He left for Europe at the end of August to headline the massive Isle Of Wight festival and begin a European tour. Tragically, he would die in London on September 18, 1970.
The Cry Of Love, the first album of posthumous Jimi Hendrix recordings, was issued in 1971 to wide commercial and critical acclaim. Jeffery readied Rainbow Bridge and its accompanying soundtrack to be the next release. Despite its Hendrix association, the film was a commercial flop. Rainbow Bridge confused moviegoers, many of whom were under the impression they were going to see a concert film. A scant 17 minutes of haphazardly edited Hendrix concert footage was used in the final cut, and it proved to be the film's saving grace. Due to technical problems inherent in the original recording of the Maui performances, Mitch Mitchell had to overdub his drum tracks at Electric Lady Studios in 1971 just so those performances could be featured.
Eddie Kramer recalls, "Mitch did a tremendous amount of work on the overdubs. If he didn't get it in one take, he certainly did in the second one and I was so blown away by his ability to duplicate the parts he had already played! He was determined to fix what suffered on the recordings due to the 50 mile an hour winds because they were playing on the side of a bloody volcano! After Jimi died it took a while before I was able to go back to the closet with all the tapes. Mitch was a trooper with a can-do British attitude. It's all very well to overdub drums, but to do it so you can't tell, that's the magic. He knew the material extremely well and it's a tribute to his sensitivity as a great musician and an equal and willing partner of Jimi's."
The posthumously released Rainbow Bridge soundtrack album, prepared by Mitch Mitchell, Eddie Kramer and John Jansen, was first rate and featured classics such as "Dolly Dagger" and "Hey Baby (New Rising Sun)." The album, however, did not include audio from the Maui concert, which may have also added to consumer confusion.
Directed by John McDermott and produced by Janie Hendrix, George Scott and McDermott, Music, Money, Madness… Jimi Hendrix Live In Maui incorporates never-before-released original footage and new interviews with firsthand participants and key players such as Billy Cox, Eddie Kramer, Warner Bros. executives and several Rainbow Bridge cast members, as well as its director Chuck Wein. Their fascinating account tells the definitive story about one of the most controversial independent films ever made.
Learn more about the accompanying soundtrack.
# # #
ADDITIONAL PRODUCTION CREDITS
Experience Hendrix, L.L.C.
G. William Jones Film & Video Collection
Coolamont Films
Pamela Des Barres
Astrodeck / Herbie Fletcher
Kinolibrary
BBC Motion Gallery
Getty Images
MoPOP
Reelin' In The Years Productions
Mark Robinson
Streamline Films, Inc.
Warner Music Group
WDR Media Group
Paul Wultz/Authentic Hendrix, LLC
Darren Yamamoto
Authentic Hendrix, LLC
Bob Adelman
Alamy
Cal Bernstein / Authentic Hendrix, LLC
William Bixler
Brian Byrnes / Authentic Hendrix, LLC
Joseph Cestaro / Authentic Hendrix, LLC
Richard Chase / Authentic Hendrix, LLC
Linda Eastman / © Paul McCartney
Tony Gale / Authentic Hendrix, LLC
Burt Glinn / Magnum Photos
Jay Good / Frank White Photo Agency
Willis Hogan Jr. / MoPOP / Authentic Hendrix, LLC
Eddie Kramer / Kramer Archives
Jim Marshall Photography
Fred W. McDarrah / Getty Imges
Bambi Merryweather
Mirrorpix / Getty Images
Seabury Hall
George Shuba / Authentic Hendrix, LLC
Jonathan Stathakis / Authentic Hendrix, LLC
David Sygall
Larry Syverson
Daniel Tehaney / Authentic Hendrix, LLC
John Veltri / Authentic Hendrix, LLC
Baron Wolman
Film & Video Transfers Inc.
Foto Kem
Pro 8mm
Barry Gruber
Steven Pesant
John Vondracek
The String Theory
COLOURIST & ONLINE EDITOR
POST PRODUCTION SUPERVISOR
SPECIAL FEATURES EDITING CONSULTANT
EXPERIENCE HENDRIX, L.L.C.
Johanne Wood
Blazing Griffin Post
Amanda Howell
Tamera Kearney
Gary Bush
John Halliday
Guy Jackson
Billy Cox
Sarah Bakhiet
Roger Bayley
Barry Gruber
Eric Hellstrom
Jonas Herbsman
Russ Houston
Ryan Jackson
Mike Johnson
Susan Jost
Bruce Kuhlman
Linda Lindsay
Richard Moraunt
David Peck
Mark Pinkus
Paula Salvatore
Leah Santos
Jeremy Spracklen
Annie Vicari
Kim Young
All at Seabury Hall
© 2020, Experience Hendrix, L.L.C. All Rights Reserved
JIMI HENDRIX LIVE IN MAUI